PIRELLI RACE TIRE
Distributor USA
Your Trusted Supplier of Motorsports Tires
Frisby Performance Tire in Henderson, NV has proudly supported sports car enthusiasts, competitors, and manufacturers with high-end racing tires since 1981. Our company specializes in competition tires for the road racing market. We are a credible distributor of the following tire brands: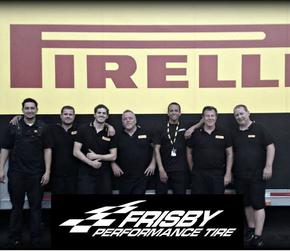 Robert Schaefer and Michael Frisby are cousins who have invested their life's work into creating a quality company that can provide great service and top-of-the-line products. Since the late '60s, both men have been involved in the automotive business—whether it is working on cars or working at a local tire dealer. Eventually, their passion led them to the motorsports industry and developing the company.
As a family-owned business, we strive to develop a harmonious relationship with our customers. We value our reputation as an honest and hardworking company.
Our team has more than 30 years of personal expertise in the professional motorsports industry. That is why we can provide customers with knowledge, recommendations, and tire services at each scheduled track event.
We are the sole tire supplier for the following professional race series: